Exhibition
Screening: In the Event of Amnesia the City Will Recall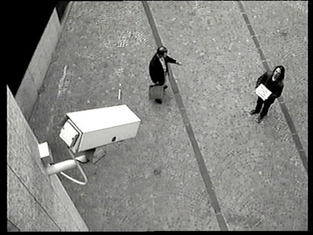 During DEAF07 a series of screenings will be shown in the film theater on the groundfloor of the Nederlands Fotomuseum in Las Palmas.
Location: Nederlands Fotomuseum, Las Palmas, film theater on groundfloor, 10-29 April
15.00 / 19.00 (total 30mins)
In the Event of Amnesia the City Will Recall
Denis Beaubois
AU 1996, 07:31 min
The video questions the role of surveillance in public space by trying to reach beyond the anonymous CCTV system and to get in contact with what's behind it.
In the Event of Amnesia the City Will Recall explores the relationship between the individual and the metropolis. These works are not structured events for a traditional audience, they are questions proposed to the site. Open actions which rely on the surrounding dynamics to embellish them. The city as audience, collaborator and performer is emphasised in these works.

Twelve sites were selected around the city where surveillance cameras were prominently placed. The locations were mapped out creating the stage for "in the event of Amnesia ..." . A pilgrimage was made to the sites daily for a period of three days. Upon arrival the performer engaged with the electronic eye. The performers actions were directed to the camera which adopted the role of audience. No permission was sought for the use of these sites. The performer arrived unannounced and carried out his actions.