Exhibition
Screening: What Noah Knew: Old Models for New Conditions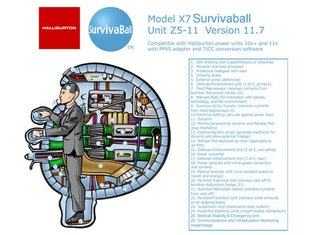 During DEAF07 a series of screenings will be shown in the film theater on the groundfloor of the Nederlands Fotomuseum in Las Palmas.
Location: Nederlands Fotomuseum, Las Palmas, film theater on groundfloor, 10-29 April
14.00 / 18.00
What Noah Knew: Old Models for New Conditions
The Yes Men
USA 2006, 05:00 min
The "disaster and conflict industry innovator" company Halliburton presents its latest product: The Survivaball.
An advanced new technology will keep corporate managers safe even when climate change makes life as we know it impossible – "The SurvivaBall is designed to protect the corporate manager no matter what Mother Nature throws his or her way," says Fred Wolf, representative of the Halliburton company. The "disaster and conflict industry innovator" and their product presentation at the Catastrophic Loss Conference held at the Ritz-Carlton Hotel in Florida is The Yes Men's latest coup.