Exhibition
Screening: Camouflage. LOOK like them - TALK like them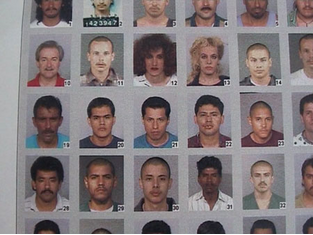 During DEAF07 a series of screenings will be shown in the film theater on the groundfloor of the Nederlands Fotomuseum in Las Palmas.
Location: Nederlands Fotomuseum, Las Palmas, film theater on groundfloor, 10-29 April
14.00 / 18.00
Camouflage. LOOK like them - TALK like them
Jun Yang
A 2002/04, 16:33 min
As an object of "suspicious appearance and behaviour", Migrant X feels forced to develop a range of camouflage tactics to ride out his everyday life.
The mutated conditions of everyday life for legal and illegal migrants since 9/11 are Yang Jun´s topic in "Camouflage. LOOK like them and TALK like them". A collage of recent newspaper headlines, showing that today´s security and surveillance paranoia exaggerates outer appearance into a proof of suspectedness and harassment, contrasted by glossy advertisments and oversize fashion posters. Exemplified by the story of Migrant X, the voice-over develops those survival strategies of Camouflage: follow the crowd, adapt your language and gestures. X did not make it. He was arrested due to his suspicious appearance and behavior – he ran after a bus – and identified as illegal immigrant.