Exhibition
Object B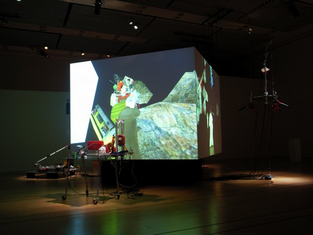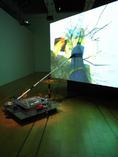 Object B (Exonemo) presenteert een gemodificeerde first person 3-D schietgame met echte objecten die verbonden zijn met een virtuele setting. Het spel wordt gespeeld met automatisch gestuurde objecten gemaakt van computeronderdelen, electrische gereedschappen en controlepanels voor schietgames. De game is geÔnstalleerd in een driedimensionale omgeving, gecreŽerd door projecties op alle vier de wanden van de tentoonstellingsruimte. De frequente gewelddadige acties van de robots in de game triggeren automatische commando's die het verloop van het spel bepalen.
World creators and apostles of the home improvement stores.
Perpetual hard-/software poetry.
Operations by chance and necessity repeating participatory Creations.
Coproductie:
Yamaguchi Center for Arts and Media (YCAM)
Takayuki Ito (YCAM InterLab)
Samenwerking voor apparatuur:
Tama Tech Lab Ltd.