Participants
Atau Tanaka (JP/F)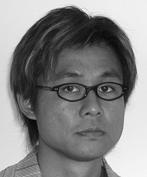 Atau Tanaka (USA)
Participant in STEIM on Tursday 12-04-2007starting at 20:00 in Arminius
Atau Tanaka was born in Tokyo and raised in the U.S. He studied with Ivan Tcherepnin at Harvard, and there met John Cage. While living in the San Francisco area, he was commissioned to compose the first piece for BioMuse, a bioelectrical musical instrument. Tanaka moved to Paris in 1992 to conduct research at IRCAM. In his work with sensor technology, he as been artist in residence at STEIM, Amsterdam, and designed an interactive art gallery for Fred Frith. In 1995 became Artistic Ambassador for Apple France for interactive music technologies.
Atau has concertized in Europe, North America, and Japan. He has presented his work at conferences and festivals such as Doors of Perception, MILIA, ISEA, DEAF, ICMC, Sonar. He has used the BioMuse to control real time image processing, creating solo sound/image performances. In 1993 he established Sensorband with Zbigniew Karkowski and Edwin van der Heide as a sensor instrument ensemble. Sensorband has performed widely as a trio, in network concerts, and has created projects using large scale architectural and laser instruments.
In 1997 Atau moved from Paris to Tokyo on a Sensorband commission from NTT-ICC. He is currently conducting research on network music.