Program
FEATURES: Project Space
DEAF Featured Projects
DEAF07 features a number of recent projects in arts, with presentations, booklaunches and installations in the V2_building.
Wednesday 11 – Sunday 15 April, 11.00 – 18.00
Entrance: free
D-Rail – Take me through the city (The Dynamic City Foundation (DCF))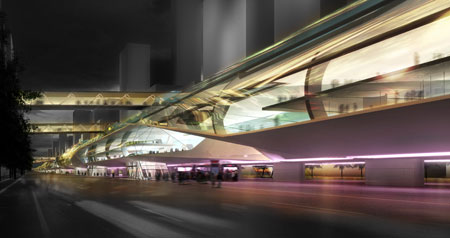 Via VR goggles, the Dynamic City Foundation takes you on a ride through Beijing in 2020 on the D-rail; a hybrid form of high-speed pedestrian orientated mass transportation developed to curb Beijing's increasing struggle with congestion. The system combines travelators (flat escalators) with the Maglev (magnetic train) technology. In this innovative concept the trains never stop, so you never have to wait. There are no stations. Commuters can get on board at any point on the continuous loop around the 3rd and 4th Ring Roads of Beijing.
This infrastructural insertion is an integrated part of a masterplan for Beijing. At the heart of the plan is a new center for the city of Beijing in 2020 developed by the DCF.
Location: V2_Building, entrance Witte de Withstraat, immediately to the left after the entrance.

Disappeared in America (Visible Collective/Naeem Mohaiemen)
Visible Collective/Naeem Mohaiemen work on projects that look at hyphenated identities and security panic. The majority of detainees in recent paranoia times are from the invisible underclass - shadow citizens who drive taxis, deliver food, clean tables, and sell fruit, coffee, and newspapers. The only time we "see" them is when we glance at the license in the taxi partition, or the vendor ID card. When detained, they cease to exist in the consciousness. The project "Disappeared in America" uses art in a museum space to deconstruct the current climate of Islamophobia.
http://shobak.org
Location: V2_Building,  entrance Witte de Withstraat, in the entrance corridor on the left.
Media Bombs (Todd Matsumoto)
Media Bombs likens the beginning broadcasts of the Iraq War to actually being in a battle situation. In which ways should we begin the think about media as actual weaponry? What kind of view of the battlefield would we see if we did consider media as a part of planned warfare, as a weapon, or as media bombs?
Location: V2_Building, in V2_Studio immediately on the right-hand wall
www.greatfirewallofchina.org
with Yan Ting Yuen and Jonas Vorwerk
To contribute to transparency and an open discourse on censorship customs in China, greatfirewallofchina.org keeps track of which and how many websites are being blocked for internet users in China. The site allows you to open any URL via a server in China and check whether it is blocked to the users there.
Location: V2_Building, entrance Witte de Withstraat, in the entrance corridor on the right.