UbiScribe: Collocollaboracontentquery?
Public colloquium
Sunday 15 April, 10:00–18:00
V2_ Building, ground floor
Coproduced by V2_ and the Jan van Eyck Academie
IMPORTANT CORRECTION OF THE PROGRAM BOOKLET:
The roundtable session of this event, scheduled on 16 April at Piet Zwart Institute, has been cancelled due to unforeseen circumstances. We apologize for the inconvenience and hope to welcome you on the 15th at V2_, for this public colloquium, which will take place as scheduled.
View UbiScribe (archived RealVideo stream)

This archived stream can be viewed with the free RealPlayer, which can be downloaded from www.real.com.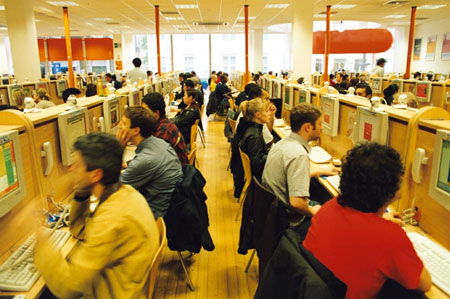 UbiScribe is a nomadic research project about pervasive publishing in networked media. This public colloquium presents topical issues raised from current research conducted for UbiScribe, at the Design Department of the Jan van Eyck Academie Maastricht. The work of four UbiScribe researchers – Jouke Kleerebezem, Arie Altena, Sandra Fauconnier and Tsila Hassine – is presented in dialogue with practices, thoughts and projects by several international guests.
Moderator: Florian Cramer (D/NL), course director, Piet Zwart Institute
http://cramer.plaintext.cc:70/
http://pzwart.wdka.hro.nl/mdma/staff/jjfcramer/
Paired presentations:
Jouke Kleerebezem (NL/F), artist
http://www.nqpaofu.com
and
Paul Perry (NL), artist
http://www.alamut.com
Arie Altena (NL), researcher
http://www.ariealt.net
and
De Geuzen (NL), artists' collective
http://www.geuzen.org
Sandra Fauconnier (B/NL), researcher and archivist
http://www.spinster.be/participation
and
Saul Albert (UK), artist and cultural producer
http://www.twenteenthcentury.com/saulcv
http://theps.net

Tsila Hassine (IL), artist and media designer
http://www.geuzen.org/tracer
and
Jorge Blasco Gallardo (E), writer and organizer
Collocollaboracontentquery?
Früher (seit Platon und noch vorher) ging es darum, vorhandenem Stoff zu formen, um ihn zum Erscheinen zu bringen, und jetzt geht es eher darum, einen aus unserem theoretischen Schau und unserem Apparaten hervorquellenden und sich übersprudelnden Strom von Formen mit Stoff zu füllen, um die Formen zu 'materialisieren'.

– Vilém Flusser in "Form und Material" (1987), published in Vom Stand der Dinge: eine kleine Philosophie des Design, 1993

Vilém Flusser was early to recognize the informative power of (computational) media. Clearly in music and architecture many examples of computer-enhanced creation exist, but also in typography and text and image creation we find algorithmically processed emerging form. Most importantly, also new habits and types of interaction emerge as "forms" or ways of understanding, discussing and collaborating on artistic content. With this colloquium, we want to investigate how digital media and communication technologies provide production, processing and access to content in such a way as that by these technologies alone emerge manifest forms.
Where once form resulted from minute design, construction and fabrication, increasingly we see it wildly emerge from the technological (read: computational) processing of data, providing abundant proposals for designers, artists and authors to be thoughtfully selected and proceeded in cultural production.