Program
The Evening of Paul Koek on Dick Raaijmakers
The Evenings of... Four events in which special guest curators, artists and theorists who have developed unique positions in art and culture are invited to create their own à la Carte 'Evening of …', as a platform to expose, showcase and question today's state of unstable media.
Sunday 15 April, 20.00 - 21.30
With Henriette Koch (voice), René Bakker (builder Tooverfluit / sirene orchestra)
Location: ro theater
Admission: € 10 / € 8 reduction
The Evening of Paul Koek on Dick Raaijmakers gives us insight in one of the most peculiar and many-sided Dutch artist. Dick Raaijmakers is a composer, poet, and scenographer with whom Paul Koek has been working for many years regarding several theatre productions to be refered to as Electrical Music theatre. These productions focussed on mimesis, synchronicity, virtual sound environments and composed space. Paul Koek will present three main elements that determined their collaboration.
Dépons/Der Fall
An analysis on the techniques of mimesis as worked out in this music theatre work performed at the Holland Festival 1993.
The open form of the little mechanics
After the publication of his remarkable publication The Method (1984) Dick Raaijmakers wrote a follow up: The open form of the little Mechanics. This manuscript has never been published but will be performed this evening.
Tooverfluit/Magic Fluit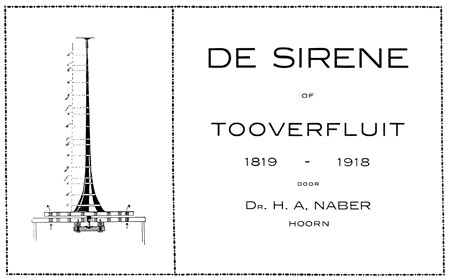 As a 'scholar on stage' philosopher John Heymans researched the early days of electrified music as Dick Raaijmakers preferred to call the early electronic music. Heymans and Koek discovered the work of Henri Naber physics who invented an orchestra of sirens around 1903. De Veenfrabriek decided to reconstruct this imaginative instrument called the Magic Fluit. The first musical results will be presented this evening.

In collaboration with De Veenfabriek and the university of Leiden