Blog
rss
Photo Gallery: Critical Ecosystems
Foto's
Wednesday 18 April 2007
Photo Gallery: Connected Archives
Foto's
Wednesday 18 April 2007
Photo Gallery: Brunch: Rules of Engagement
Foto's
Wednesday 18 April 2007
Snack and Surge: Media Insurgency (Friday 13 April)
Verslagen
Tuesday 17 April 2007
by Omar Muńoz-Cremers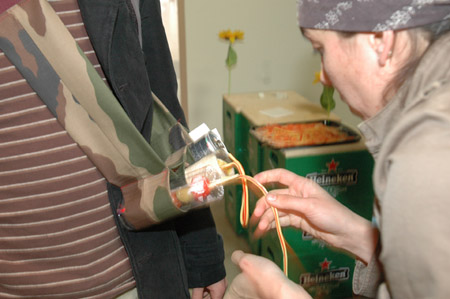 When entering the V2_Studio our snacks disguised as bombs were draped over our bodies in suicide bomber belts after which we were instructed to "Go! Go! Go!" to our seats. Andrea Natella of guerrigliamarketing.it gave us an overview of his latest exploits as part of an alternative advertising agency, from the hilarious Reality Personal Trainer (a real paid service where a trainer explains to managerial types "how reality works") to easy and cheap methods of questioning discourse on terrorism and media. This culminated in the controversial where-next.com project, which "borrows" templates from corporate websites to build a sardonic game where participants are able to gamble on the location of the next major terrorist attack.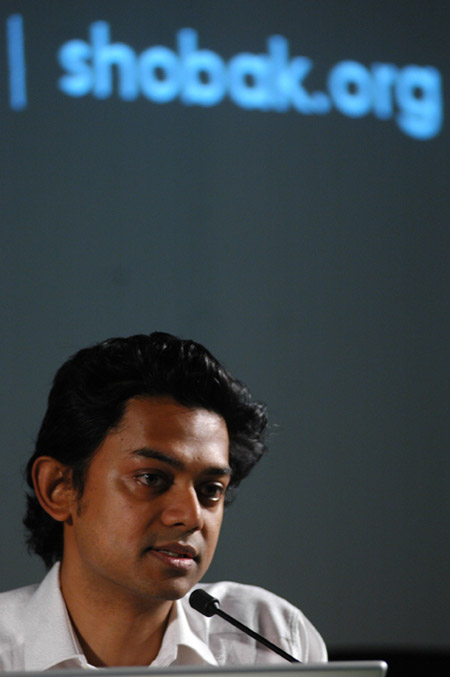 Second was Naiem Mohaiemen who talked at length about his Muslims or Heretics documentary. This film on Islamic movements and counter movements in Bangladesh produces quite interesting questions on the type of audience one envisions as a filmmaker. What happens when one incorporates their reactions in the film, the role of violence in political conflict, the western stereotypes of Muslims and their reuse by radical Muslims as a way to gain visibility?
An extra layer of technological uncertainty was added to the chaos of language when a live stream was set up with the Emergent Geographies project in Extremadura, Spain. After a shaky start their multifaceted project at a disused nuclear power plant was explained. An intriguing observation was made on-site by Brian Holmes that the collective was looking for a way out of the city, an experience somewhere in between protest and festival. With a participating class of schoolchildren in the background the whole thing came off as a joyful happening, theoretically non-centered and perhaps possessing a welcome lightness in the post 9-11 world of (all too necessary) tactical media.
Photographs Copyright (c) 2007 Jan Sprij.
25 years of DEAF: The Anniversary Party
Verslagen
Tuesday 17 April 2007
by Josephine Bosma

It called for a celebration: a quarter of a century of DEAF. On saturday april 14th it was party-time with six performances in Staal, a venue in the center of Rotterdam. It is no easy task to create a program which can reflect the rich history of DEAF. Every line up would always feel like something was missing, and so inevitably it did. What was missing for me was a sense of history, of more profound historical depth in the choice of performers, music and visuals.

The evening was tightly packed and the performances were mostly very impressive, sometimes they were even mind-blowing. The highlights of the evening were SSS, Ikeda and Edwin van der Heide. Van der Heide's performance was slightly double faced: his laser performance created an overpowering bombardment of color and movement in the room, that at first sight seemed impressive, but which soon seemed an easy trick to me, kitschy even. Yet in the quiet pieces, when both the music and the laser show became minimal, the true strength of van der Heide's work emerged.
Mouse on Mars might have been equally impressive if their music had not been turned up to the level that it created nausea, which made it impossible to judge it well. Staalplaat Sound System is not really suitable for venues like this: it needs space (lots of it) and time. The set up for this evening was humble by their standards. Actually: Staalplaat Sound System was the only performance that took us back in time, its performance reminding of the experimental mixing extravaganza of the early eighties. Because it was programmed between the high end video and laser projections of SSS, Ikeda and van der Heide it got slightly lost though. The same problem occurred with the performance of Benayoun and Barričre 'e-spotting'. Could we have one or two more anniversary parties for DEAF to truly pay homage to DEAF's rich history please?


<< Begin
< Vorige
1
2
3
4
5
6
7
8
9
Volgende >
Einde >>
Resultaten 51 - 60 van 86