Blog
rss
Connected Archives, presentation
Verslagen
Thursday 14 June 2007
A report by Kim de Groot.
Presentations were in the following order:
David Garcia, The Tactical Media Files
Nadia Palliser, ISEA
Michiel van der Haagen, CultureBase
Wolfgang Strauss and Gabrielle Blome, Netzspannung.org
Sandra Fauconnier, V2_
Alain Depocas, Daniel Langlois Foundation
Wendy Jo Coones, Oliver Grau, Database of Virtual Art / MediaArtHistoriesArchive

Moderator: Eric Kluitenberg (NL), theorist, writer and organizer, De Balie
http://www.debalie.nl

Lees meer...
An Interview with Marnix de Nijs
Verslagen
Thursday 07 June 2007
Rotterdam, March 29, 2007

by Arie Altena

Thursday afternoon, March 29, 2007. The Dutch artist Marnix de Nijs is hard at work realizing the first public presentation of his project EI4, Exercise in Immersion 4. A demo version of this work will be on display in the exhibition at DEAF07, the Dutch Electronic Art Festival. EI4 is an art game, a technically complex project for which De Nijs is developing software in collaboration with in V2_.

AA: What can we see during the first "user test" of EI4?

MdN: EI4 is a game you play in a big room. When you play you wear a crash suit and goggles that give you a stereoscopic video feed of the hall, which is recorded by a camera attached to your head. When you walk onto the playing field, you see "bions" flying around – they're kind of intelligent blobs of mucus. You have to collect them by walking up to them; then they stick to you. The bions help you navigate in the higher levels of the game. There are concrete pillars in the hall, but you can't always see them because of the goggles. The bions always fly around them, though, so they're an extension of your self that helps you navigate. The game thread of EI4 is "assembling" an instrument you can use to survive in a changing world. The world changes in the game from a video feed of the actual space to a modified and adapted 3D copy of it. The gameplay focuses on the boundary between virtuality and reality, between real and unreal. I place myself at that boundary and play games with it, like taking away pillars in the game world that are there in reality, so you run into them. It's a physical way of showing that boundary. It doesn't get any more physical than that. You smash right into the pillar, and out of the artificial world. That's why you're wearing a crash suit. The dividing line between reality and unreality, immersion and non-immersion, also plays a part in my previous work, Run Motherfucker Run (RMR). In that piece, the treadmill hurries you along; you can gain control over it, but if you don't, then you're literally flung off the treadmill, and thus physically thrown out of the gameworld.
Lees meer...
Verslagen
Thursday 31 May 2007
The concerts of the TodaysArt night (Friday 13th of April at Arminius) are online as a video.
They come in three parts:
View: POW Ensemble
View: Rechenzentrum
View: Scan 7
Video's by Sara Tirelli



Photographs (c) 2007 Jan Sprij.

Video's can be viewed with the free RealPlayer, www.real.com.
Verslagen
Thursday 24 May 2007
by Josephine Bosma

The state of affairs in writing and publishing was the theme of the Ubiscribe day, a public colloquium held at V2_ itself. Ubiscribe is a five year research project initiated by the artist Jouke Kleerebezem at the Design Department of the Jan van Eyckacademie in Maastricht. It initially focussed on the new dimensions of writing that developed because of the internet, but quickly expanded to publishing in the broadest sense to also include the publication of images and the development of archives. Ubiscribe now deals with the state of affairs in publishing rather then in writing. Moderator Florian Cramer was an excellent choice for the day, because of his research in comparative literature at the University of Berlin, but also because of his ongoing efforts in the field of experimental writing on and offline. He stated that the main question this day would be how software will influence writing styles. Cramer also remarked how tagging has become more and more important in online publishing. He introduced Jouke Kleerebezem as founder of the Ubiscribe project.

Kleerebezem explained how he felt as if the project is always one step behind the practice, because of the flight publishing took in new media. Kleerebezem mentioned the term 'pervasive publishing' in connection to this, which unfortunately wasn't expanded on much throughout the day. 'Pervasive publishing' is one of those buzz-terms that actually seem to make sense, but which are seldom discussed in detail. Kleerebezem criticized the theme of DEAF, 'Interact or Die', stating that interaction is simply necessary to stay alive. This criticism was quite often heard at DEAF, but one wonders whether that does not mean that the theme was actually quite well chosen, since it provoked so much debate. Florian Cramer added to this debate by asking himself whether this DEAF has a "dangerous ideology" at its basis. The human versus machine interaction question that was so prominent on thursday April 12th was to be a central issue again. Cramer stated that "we can distinguish what is human and what is machine feedback" [my emphasis, JB].

What was very nice of the Ubiscribe day was that each Ubiscribe participant/presenter chose another speaker whose work he or she thought was exemplary for the practices described. This opened up and contextualized the Ubiscribe project in a similar way as it does online, or in other words: links and overlaps were created on the spot, to reveal the physical network of people and activities behind online publications.
Lees meer...
Video: Interview with Marnix de Nijs
Verslagen
Thursday 24 May 2007
Video by Sara Tirelli
In this video interview Marnix de Nijs talks about his work EI4.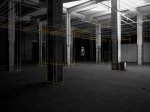 Video's can be viewed with the free RealPlayer, www.real.com.
<< Begin
< Vorige
1
2
3
4
Volgende >
Einde >>
Resultaten 1 - 10 van 39